Skip to main content
ASIC 2022
21st Annual Summer Interdisciplinary Conference
Lodging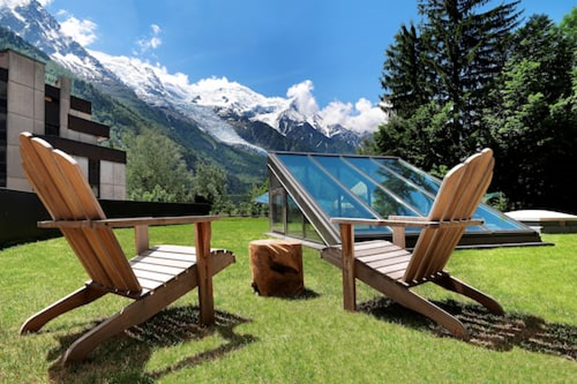 View from lawn of Chalet Hotel Le Prieure
We have placed a hold on a number of rooms sufficient for our conference needs at Chalet Hotel Le Prieure in the center of Chamonix, France. The number held will be reduced as the conference date approaches if enough reservations have not been received and hotel rooms in Chamonix tend to fill early, so booking early is essential (see below). This hotel has excellent reviews, two restaurants, and conference facilities. Lodging, breaks, conference presentations, breakfasts and all but one dinner will be held at the hotel. The evening of June 19, Sunday is left open for attendees to choose dinner at their choice of hundreds of restaurants in Chamonix.
The hotel website is found at: Prieure Chamonix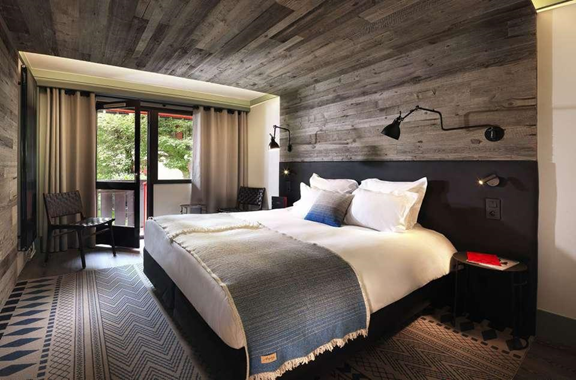 Hotel room at Chalet Hotel Le Prieure
This hotel has a variety of room types, A/C, paid parking on-site, free high speed internet, a bar, two restaurants and a banquet room, and conference facilities.
INTERNET
: Free
PARKING
: Hotel parking is 17 euro/day, first come first serve. If full, there are alternative paid parking facilities (the closest, 2 minutes walk, is Lionel Terray, which offers similar rates by the day and even lower weekly rates).
CONFERENCE ROOMS :
ASIC will use a large conference room set up classroom style.
LODGING RATES :
Lodging rates given below are inclusive and include breakfast and dinner, except for June 19, when dinner is open for attendees to eat where they choose, and the lodging price is reduced by 29 euro per adult. The prices include VAT but exclude a tourist tax of 1.5 euros. Lodging reservations should be made as early as possible, starting in September of 2021. All the prices below are reduced by 29 euro per adult for June 19, Sunday (when attendees are free to take dinner anywhere in the area).
One adult, half board:
Two adults in one room, half board each:

92.5 Euro/day for each adult

Three adults in a triple (if available), half board each:

80 Euro/day for each adult

Four adults in a quad (if available), half board each:

89.5 Euro/day for each adult
Children under 12 staying in the same room are free.
If the number of adults in the above room types is replaced by some number of children under 12, the rates are reduced by the costs per adult.
The rates are available for up to three days prior to and after ASIC.
RESERVATIONS :
It is best to reserve by email or telephone to the hotel. For special help the manager for ASIC is Alicia Duplat, Events.prieure@prieurechamonix.com; +33 (0)4 50 53 20 72.
CANCELLATION and CANCELLATION INSURANCE :
Cancellation Insurance :
We have arranged a special opportunity to pay a modest fee for cancellation insurance: For 5% of the booking fee (non-refundable) you may cancel at any time up to and during the conference. For example, a single for six days would require 840 euro, so insurance would cost 42 euro. If you reserve early you would be guaranteed a room, and this insurance would protect you from unforeseen circumstances. Without insurance the cancellation penalties can be severe, as indicated next, and delaying booking risks the hotel having no rooms available (Chamonix is a major summer tourist destination and all rooms tend to be filled).
Cancellation penalties without insurance :
Cancellations are free until March 11, 2022.
From March 11-April 11 cancellation costs are 5% of the total booking.
From April 11- May 11 cancellation costs are 20% of the total booking.
From May 11- June 4 cancellation costs are 50% of the total booking.
From After June 4, cancellation costs are 100%.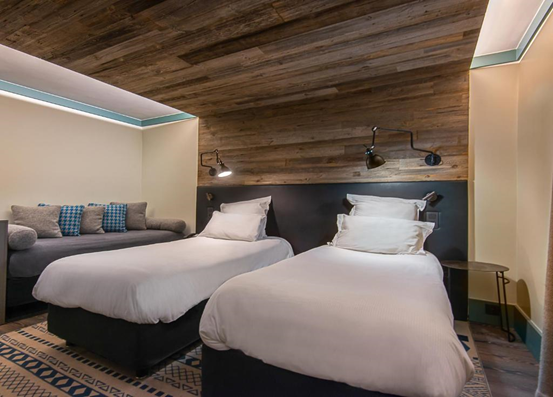 Triple at Chalet Hotel Le Prieure
SCHEDULE AND MEALS:
Each day the conference will begin with a reception with refreshments and light food near or in the conference room, starting at about 15:30-15:40. The talks will take place from about 16:00 to 20:00. Following the talks attendees will dine together as a group at the hotel, except for June 19, Sunday (see 'Meals and Breaks' on this website).